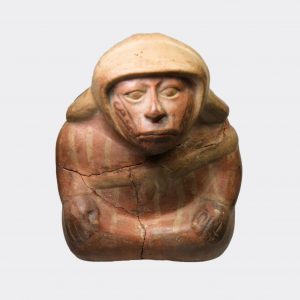 Pre-Columbian Moche vessel in the form of an old lady
M102
£300.00
Sold
A moulded pottery stirrup vase in the form of an old crouching lady with a baby-sling over her back. Pale cream and black painted details include facial tatoos on the cheeks.

Culture
South America, Pre-Columbian, probably Moche, c. 500-800 AD

Size
13.4 x 11.2 cms

Condition
Repaired from several pieces, handle on back lost and a hole under the base

Provenance
Ex. private collection, Oxfordshire, UK; acquired mid to late 20th Century.